Susquehanna University Press (Associated University Presses), 2010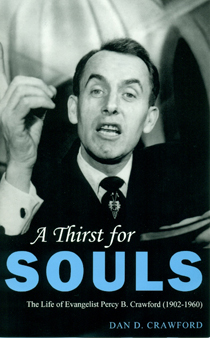 A philosopher son comes to grips with his evangelist father's life and ministry, and his passion for winning lost souls. The author situates Percy Crawford within the fundamentalist movement he encountered in 1923, when he came to Los Angeles to get a college education, and instead got converted at Reuben Torrey's Church of the Open Door. The book identifies Crawford's main contributions to fundamentalism at a critical time in its history—the 1930s and '40s—when it was languishing and marginalized in American life. Crawford was one of the "young men on fire" who effectively used the new medium of radio (and later television) as vehicles for spreading the gospel. His direct and hard-hitting preaching style, together with a high-quality musical program assembled by his wife and life-long partner in evangelism, Ruth, helped to remake the public image of fundamentalism and rekindle the spirit of revivalism.
Drawing on material that has been largely in the hands of the family and unavailable to researchers, and benefiting from the passing of over four decades and a lifetime of teaching philosophy and religion, Dan Crawford is able to look back at his father's beliefs and commitment to evangelism in a constructive and sympathetic way, but also with a critical eye that engages with his father at key points of disagreement. He describes with candor and refreshing humor his own involvement in his parents' ministry as a loyal member of the evangelistic team—singing with his brothers at church meetings and on radio and television from the age of three, and what it was like growing up in a family that put the Lord's work above everything else.
Advance Praise for A Thirst for Souls
"With his astute and judicious handling of sources never before available, Dan Crawford makes a compelling case for including his father, Percy Crawford, in the inner circle of the most influential fundamentalist leaders. A Thirst for Souls has significantly deepened my understanding of twentieth-century evangelicalism."
—Randall Balmer, author of The Making of Evangelicalism
"Dan Crawford's superb new book, A Thirst for Souls, is a well researched, beautifully crafted and much needed study of one of the most important religious leaders of mid-twentieth-century America. It is a welcome addition to the increasingly important study of the evangelical tradition."
—Garth M. Rosell, Professor of Church History, Gordon-Conwell Theological Seminary
A Thirst for Souls is available from Associated University Presses (www.aupresses.com) and is listed at Amazon.com.
An order form is available here as a PDF document:http://dandcrawford.com/flier/ordering_information.pdf
About the author
Dan D. Crawford received his PhD in philosophy from the University of Pittsburgh and has a MA in religion from Princeton University. He did his undergraduate work at Haverford College (PA) and The King's College (NY). Since 1997, he has taught at the University of Nebraska-Lincoln in the philosophy and religious studies departments. He has also held positions at Bucknell University, Muhlenberg College, and Albright College where he chaired the philosophy department for nineteen years. His areas of specialization are the history of religious thought, American Evangelicalism, and the interrelations between science and theology. He has published articles in numerous philosophy and religion journals.
Dr. Crawford is married to Sidnie White Crawford, a professor of Hebrew Bible at the University of Nebraska-Lincoln, and he has three adult children. He enjoys music and has been singing in choral groups and small ensembles all his life.
You may contact him at dcrawford1@unl.edu